P

AR

S Licensed Trainers
PARS training courses are delivered by our licensed PARS trainers. If you are an experienced trainer who would like to deliver PARS training in your area, please contact us for an application form to become a PARS Licensed Trainer.
Flora Chan
Flora Chan graduated with a Bachelor degree in Education and a Masters degree in Applied Psychology in Hong Kong. She has over 6 years experience in special need student counselling and is one of the trainers on the "Playful Parents Project " at Playright. Flora develops and delivers PARS training for parents in kindergartens, NGOs and Special Care Centers for children with special needs.
Rebekah Jackson
Rebekah Jackson is a childcare, early years and playwork consultant and trainer with over 15 years of experience supporting the development of children's childcare and out of school settings in both England and Wales. Rebekah stumbled across playwork early in her career working with children and young people and completed her MA in Play and Playwork at University of Gloucestershire. Rebekah founded her company The Bold Type Ltd after working as childcare strategic lead for a council in Wales. She is a trustee for Wrexham Youth and Play Partnership and a member of the Editorial Board for the International Journal of Playwork Practice.
QIAN Zheng (Caron) 钱铮
QIAN Zheng (Caron) 钱铮 is the founder of the Shanghai Playwork Fund, Shanghai United Foundation. She was first introduced to playwork in 2015 when she undertook the Certificate of Playwork Practice in Hong Kong. Caron is now working to bring the PARS model to people who work with children across China by organizing and delivering PARS tailor-made training courses and PARS Masterclasses. She is also developing playwork projects in local communities to provide time and space for children to enjoy more free play. Caron is currently studying for a Masters degree in Sociology of Childhood and Children's Rights at University College London (UCL).
Dr Shelly Newstead
Dr Shelly Newstead created the PARS playwork model as part of her doctoral research at the UCL Institute of Education, London, and has been appointed as an Adjunct Research Fellow at Griffith University, Brisbane Australia. Shelly has worked in the playwork field for nearly thirty years as a practitioner, trainer, author, editor, publisher and researcher. She is the Series Editor for Advances in Playwork Research (Routledge) and the Managing Editor of International Journal of Playwork Practice. She is also currently the President of the International Council for Children's Play (ICCP) and her research interests include the history of playwork and the development of empirical evidence about playwork practice. Shelly is also the author of the popular Busker's Guide to Playwork which has sold over 12,000 copies worldwide and is now also available in Japanese.
Rarni Rothwell
Rarni is an educational leader who spent most of her 26 year career working out of a school based service in South East Queensland, Australia. Since beginning an Action Research journey in 2010, she has relished in sharing the profound insights this unique form of professional development offers across various formal and informal formats. Since mid-2014 Rarni has explored her fascinations including reconnecting children with nature, capacity building through risk, embedding sustainable practices and the magic of playwork in a slightly different off-the-wall context. Rarni enjoys regularly collaborating, advocating and playing with her colleagues from across all early childhood education and care service types and has the pleasure of working as Lead Trainer for the Queensland Children's Activities Network, Australia.
Min Sham
Min Sham is a registered Social Worker in Hong Kong and has over six years of experience in playwork practice and training. He is particularly interested in outdoor play and demonstrating how natural materials can be turned into play materials through workshops and public demonstration projects. Working for Playright in Hong Kong, Min is responsible for developing the "Play in Park" project and empowering NGOs, professional bodies and government departments with knowledge and skill about children's play.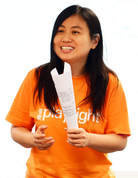 Ada Wong
Ada Wong has over twelve years experience of providing training in various kindergartens, professional bodies, tertiary institute, NGOs and government departments. She holds a Certificate in Hospital Play and has visited adventure playgrounds around the world. Ada is currently working with EUHK in Hong Kong to develop PARS training in higher education.
Potato Yu
Potato Yu graduated with a Bachelor degree in Psychology from Chinese University of Hong Kong. He obtained a Diploma in Playwork Practice and is also a certified "Triple-P" provider. Potato is in charge of the "Playful Parent Project" at Playright in Hong Kong. In this role he uses the PARS model to raise public awareness of the importance of parent-child play in nurturing a happy and healthy childhood.